それぞれの石の持つ個性や自然の色彩に向き合い、美しいと思った線、形、バランスを追求し、
1つのジュエリーに仕立てます。そのため国内外から納得のいく石の買い付けを行います。
身に着けた時こそ美しく際立つ、そんなジュエリーを目指します。
During the crafting process, each jewelry is made with highest attention towards the unique quality and colors each stone carries.
Lines, shapes and colors of the stones, and the balances of all of them are important aspects that well create beautifully designed jewelry.
In order to achieve our high standard, we travel internationally to find high quality and unique gems.
Our goal is to make jewelry that will shine at its brightest when they are worn by you.
CRAFTSMANSHIP
ものづくりの一貫性を実現するため、デザインした者が制作の現場でも中心となり
1点1点のジュエリーを納得のいく完成度に仕上げます。世代を超えて永く愛されるよう、
自分たちの工房にて心を込めてお作りしています。
Our designers consistently take their responsibilities until the completion of each jewelry to maintain
the highest level of craftsmanship throughout the process. At Atelier d'or, we make our jewelry from our heart,
wishing they will be cherished by our customers through generations.
COMPANY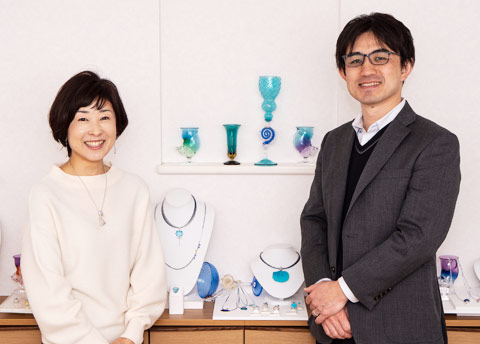 デザイナー 檜佐歩夢   代表 青柳光春
| | |
| --- | --- |
| 会社名 | アトリエ ド・オール Atelier d'or |
| 所在地 | 埼玉県川口市 |
| 設立年月日 | 1981年1月1日 |
| 代表者名 | 青柳光春 |
| オフィシャルサイト | https://www.atelierdor.jp/ |
HISTORY

アトリエ ド・オールは檜佐賢治、秀美により1981年に設立されました。埼玉県川口市のアトリエにてオリジナルデザインによるハンドメイドにこだわり、ジュエリーのデザイン、制作、販売を行っております。現在では青柳光春、檜佐歩夢夫婦に引き継がれました。
私達は「宝飾」と言う枠にとらわれず、「ジュエリーに物語を語らせたい」とする世界観を大事にしてきました。お客様との距離を縮め、その世界観を更に楽しんで頂くために2020年、浦和に小さな店舗をオープンいたしました。私達ド・オールもまた、新しい物語を紡ぎ出していきます。
Atelier d'or was founded by Kenji and Hidemi Hisa in 1981. At our studio in Kawaguchi City, Saitama Prefecture, we design, produce, and sell jewelry with the highest care towards the originality of our designs and hand crafting. Atelier d'or was succeeded by Mitsuharu Aoyagi and Ayumu Hisa.
Our concept is "jewelry that tells stories". When we make our jewelry, we think beyond the process of actual jewelry making. We use our imagination to foresee how our jewelry might create stories with each customer, and utilize it to design original jewelry for each of them. To make more opportunities to meet and get to know our customers, we have opened a small boutique in Urawa in 2020. At Atelier do'r, we are also starting our own new story.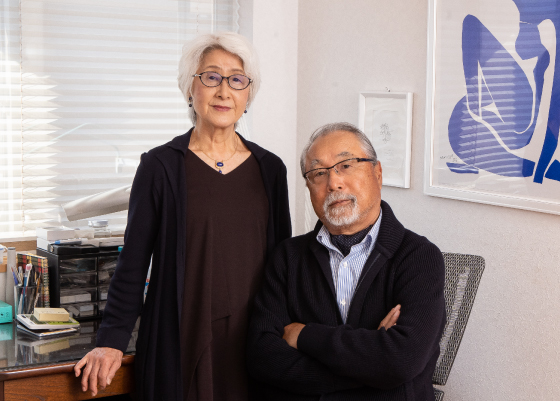 檜佐秀美   檜佐賢治